Critters Love Coverwell Custom Window Well Covers!
Custom Window Well Covers Save Lives
---
By Mark B - February 1, 2023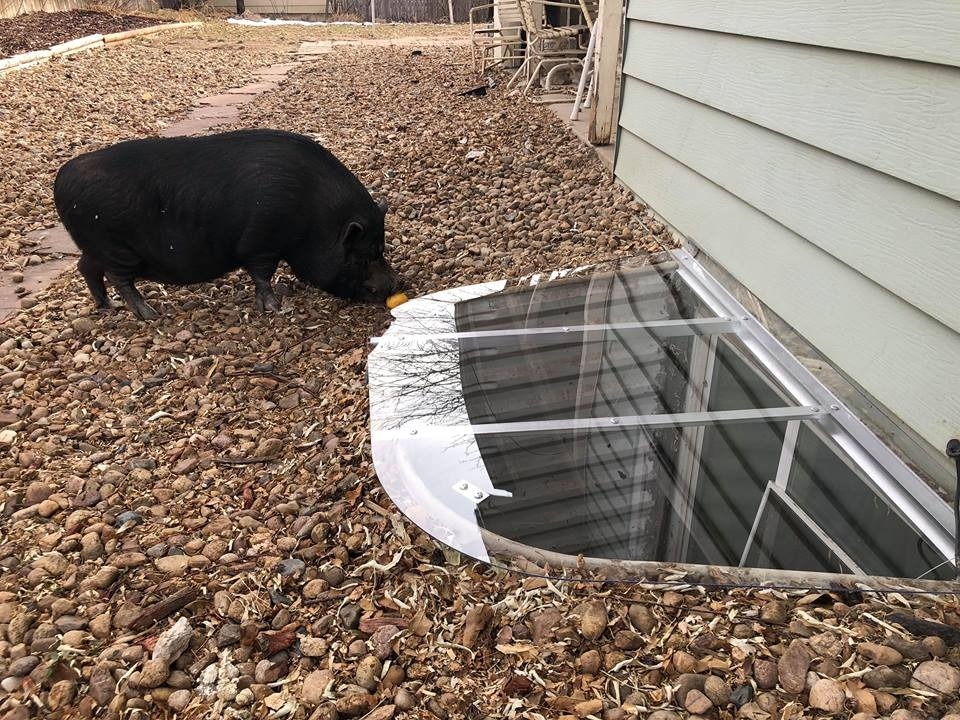 Squirrels, dogs, cats, skunks, and yes, even pigs share a common enemy:  Uncovered window wells.  Their inquisitive nature often leads them to those open pits, your window wells, only to fall in and become trapped.  And, honestly, how often do you check your window wells?  Usually, it's once a year and are we surprised to find the carcass of some small animal buried under debris (another blog on this later) at the bottom of the window well? 
     
How do we solve this problem?  Well, you could fill your window wells with concrete.  But, it's unsightly, expensive, and really cuts down on the light and view from your basement.   You could try a steel grate cover.  However, grate covers are often badly built, very heavy, have sharp edges and can still allow small animals to fall in the window well.  Small animals can get a paw caught in the grate and cause injury.  Not to mention thae amount of debris (again), snow, hail, and rain a grate can allow into your window well.  The only thing a grate can keep out of your window wells is you...and sunlight. 
     
The answer is a Coverwell Custom Window Well Cover!  Our clear polycarbonate covers are supported by a proprietary aluminum support system.  Our friendly and knowledgable estimator measures your wells, provides a FREE quote and answers your questions.  Our CNC machine cuts your covers and our professional staff assembles them.  Our two person team of installers then delivers your covers and installs them.  The process couldn't be easier.  We cover any window well, any shape, any size!  We build the covers the other guys can't...or won't!  Do you have a window well that you think can't be covered?  Call us!  We're not some fly by night man in a van with a jigsaw!

Protect your investment in your home!  Protect the critters. 

Call Coverwell Custom Window Well Covers today for your completely FREE estimate!
Go Back